Lovingly restored with a new hard wearing case covering
And a new cotton velvet interior
Originally dates from 1930
Superb collection of 22 electrodes, some quite rare
A real beauty - should really feature in a film
Dual controls to control both the buzz and the intensity
Sensations - low low to high
Works on both 120V (North America) or 240V (UK and Europe)
This lovely Felma comes with a wide range of strange and powerful electrodes - it should really feature in a Boris Karlof film - or alternatively the ferrari of Violet Wand devices - beautiful and deadly
We have fully refurbished the case with a new faux leather covering, case fittings and a lovely rich cotten velvet interior. All are built to a far higher standard than the original.
The machine is 89 years old but looks new !!!
Power is controlled by two dials - the upper one controls the buzz - from zero to low to high - the second, the power - from zero to high.
The tray in the base is removable and there is extra storage space below this.
This device was originally made in the early 1930s which makes it around 88 years old
Unusually, in the wand handle is a RED button which allows you to stop the sparks while you change electrodes - a feature unique to felma at this time.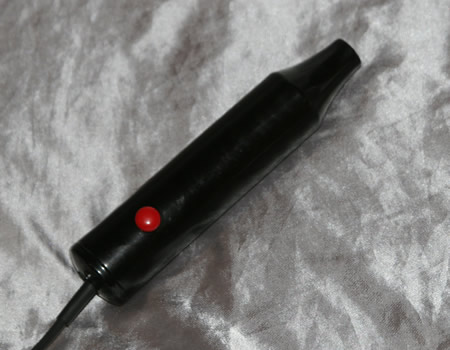 Naturally we have fully restored this unit electrically, with new interior insulation, double insulated, new capacitor, new cables, cable retention, plugs which fit and sockets which are made safe. Plus of course, vacuum potting the hv coil in the hand set.